Meet Mariam Anako Ooni Of Ife's New Wife
Meet Mariam Anako Ooni Of Ife's New Wife
Meet Mariam Anako Ooni Of Ife's New Wife:Mariam lost her father when she was very young and was brought up in the house of former IGP Mohammed Dikko Abubakar, who ruled as the Nigeria Police Chief from 2012 to 2014. MD Abubakar, as he is known, is the father-in-law of the most richest man in Africa – Alhaji Aliko Dangote. Ooni's new mother in law is a retired police officer.
Reports say that Mariam Anako works at NestOil.
It is said that he promised that Ooni Adeyeye would not marry another woman after he married her.
Officials revealed that before the wedding of Mariam Anako and the Ooni of Ife, Oba Adeyeye Enitan Ogunwusi on Tuesday, September 6, 2022, the family event took place on February 19, 2022.
The event was done in secret and without interest, because the king did not want any attention from the media.
Ooni and Adebukola nee Bombata's first marriage had problems before his coronation, but they will settle things for the coronation.
Then he fell; he left the palace and went to London.
From the collapse of his first marriage to Bukola in 2015 and his relationship with Olori Wuraola hitting rock bottom in July 2017, he married prophetess Naomi in 2018.
However, Queen Naomi on December 23, 2021 announced her divorce from Ooni from Ife through an Instagram post.
In a statement posted on his verified Instagram profile, he announced the end of their three-year marriage.
According to his newspaper, the divorce is not because of "second drama" or other lovers, as many people think. He also said that it was not his marriage arrangement and that many people misinterpreted the situation.
TG Omori gives in, invites Portable for music video shoot
TG OMori, an award-winning director of music videos, has finally acceded to the requests of polarizing performer Habeeb Okikiola aka Portable.
He promised to record a music video for one of the artist's songs, but he did not specify whether it would be free or if the $50k price would be waived.
After he claimed that he approached Omori to do a music shoot and that he charged $50,000, the Zazuu star repeatedly attacked him (N37 million).
Portable voiced his concerns about the charge on his Instagram story and questioned why the director was charging so much.
Using one of his favorite quotes, he claimed that the director was stressing him out and remarked that a kind person wouldn't put another person through stress.
The singer of "Clear" posted screenshots of their conversations in a video and responded to Omori with voice notes complaining about how expensive the money was.
In a widely shared video, Portable accused Omori of making a subpar video for his breakthrough single Zazuu Zeh so that his tattoo would not be visible in the final product.
He claimed that it was impossible for him to pay N37 million for a music video when his family depended on him to provide for their daily needs.
He wrote; "@portablebaeby send your new song make we shoot."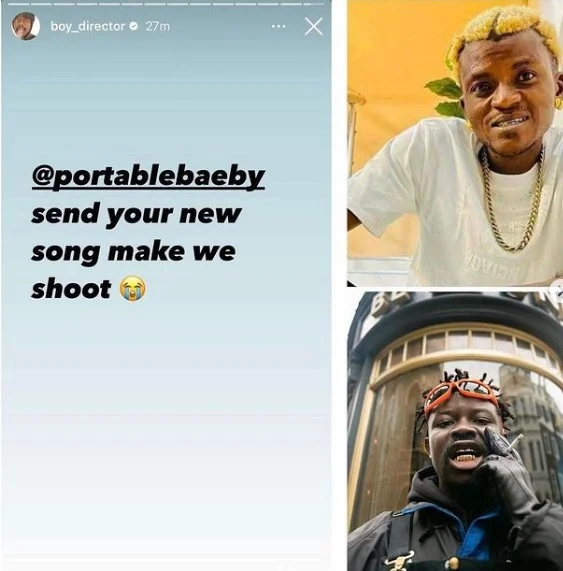 Naira redesign: Them do pass God – Comedian Akpororo calls out POS agents over exorbitant charges [VIDEO]
Popular comedian Akpororo has called out POS agents all over the country over the exorbitant charges placed on their services.
Akpororo, like many Nigerians seemed angry with the situation of things in the country, especially with the scarcity of Naira, following its recent redesign.
According to the Funny Man, POS agents are now competing with God in terms of tithes because they charge Nigerians 10 per cent of the money received from their channel. In his words:
"How much is God collecting, 10 per cent. People wey dey do POS now don pass God. Them dey share the same power with God."
In another clip, Akpororo also called out filling stations and power authority as he claimed they were working hand in hand. Akpororo added a caption that read:
"Government please help us. Nigerians needs help, na beg we dey."
Lamenting, many Nigerians took to the comedian's comments section.
See video and comments below:
Court dissolves Paul Okoye, Anita's eight-year marriage
An Abuja High court has granted Anita and her estranged husband, Paul Okoye divorce.
Anita who got married to Paul in 2014 cited cheating, separation, being an absent father, fraud, and difficult experiences as her major reasons for seeking a divorce.
She requested a monthly settlement of $20,000 and a number of her husband's mansions.
In the divorce petition signed by her lawyer, Ojonimi Akpe and Okutepa J.S at an Abuja High Court of the Federal Capital Territory, Maitama, Anita had earlier claimed that she contributed N10 million as an agreement with her husband that she would be granted space at the mall he had just completed in Lekki Phase 1, Lagos.
She, however, claimed Paul Okoye cheated her out of a deal.
The petition reads in part, "That I know as a fact that the petitioner founded a company called TannkCo in 2019.
"That the petitioner and the respondent agreed to build a mall where TannkCo would have its main offices, and the petitioner contributed N10,000,000.00 (Ten Million Naira) for the purchase of the land and the building of the mall.
However, Anita decided to withdraw the claims and opted to settle following alleged inability to prove all of the claims in her petition to the court.
The court, in ruling of the case, granted joint custody of the children to the parties on October 20, 2022.