I Wrote My Will, Booked A Space In A Cemetery After Being Diagnosed With An Incurable Disease – Kemi Afolabi
Year 2021 was filled with a lot of twist and turns, Nigerians have taken to social media to share some of their experiences, the good, the bad and the ugly.
Popular nollywood actress, Kemi Afolabi could not hold back her praise to God as she shared her journey of the year 2021.
The light-skinned talented actress took to her instagram account to reveal what she went through, last year. She wrote that the year 2021 was tough, but God showed up for her.
According to Kemi Afolabi, she had undergone several covid-19 tests as she was showing related symptoms and that she was on oxygen for about a month.
She revealed that she sold her properties after spending all her savings because she knew the thoughts of taking her condition to the public eye or beg for funds at that time will kill her faster.
She stated she was diagnosed with an incurable condition but manageable with drugs.
As terrible as it sounds, the actress said she already wrote her will and even booked a space at ebony vault (a cemetery in Lagos), as she seemed to be prepared for death.
She added that her life had changed forever but she's thankful she's still breathing.
She posted a video and captioned:
"I wrote my will and booked a space with ebony vault this year 2021 but God showed me how faithful he is despite my unfaithfulness.
Who am I that God is so mindful of my existence????
Me ordinary sand????? That was toss around from my private hospital to LASUTH, to Army barracks hospital WAEC and finally LUTH where I spent over three months!
I did Covid test every 48hrs at LASUTH emergency because I was short of breath, was on oxygen for about a month, still no diagnosis after several test conducted.
Only a mad man says there is no God ooo. sold my properties after spending all my savings because I knew the thoughts of bringing my condition to the public eye or beg for funds at the time will kill
me faster!!!
Finally I was diagnosed of a condition that has no cure but can be managed by medications and takes me in and out of the hospital at will (SLE)
Fluid blocked my lungs, affected my heart from functioning well which was the reason for my breathlessness and that is caused by the condition diagnosed! Surgery was the only option to drain out
the fluid fast.
My life has changed forever but I am thankful I am still breathing.
Being in an industry that places high value on appearance, it's been
a struggle taking medications that's helps ease the pains but affect
my weight and people will constantly remind you of how FAT you've
become without hesitations.
The year 2021 has been tough! but with God showing up for me and some special people by my side, I made it through.
Alhamdulilah robil alameen
#KemiAfolabi
#lamAwarrior"
Watch video below:
Why I Left Music to Pursue Mass Communication – Korede Bello
Nigerian singer Korede Bello burst into the national consciousness in 2014 with the release of the globally successful hit song "Dorobucci". This song and the subsequent releases of other hits like "Godwin", "Romantic", and "Do Like That" made Korede Bello the man of that moment. But then during the peak of his career, Korede Bello decided to do what nobody expected, and return to school to go and pursue a degree in mass communication.
Now, in a new interview with The New Telegraph, Korede Bello opens up about his decision to leave his music career at its peak to go and study mass communication, as well as how he has been able to cope with the mental health struggles that come with being in the entertainment industry. Here is what Korede Bello said.
**Before reading on, please make sure to like and follow my Facebook page (Jide Okonjo) so you don't miss out on any new and interesting lists, articles, and stories that I post every single day. I have a really fun page. If you like my page, you will have fun too. So what's stopping you? Like my page and let's have fun together!
During his interview, Korede Bello was asked: "Right at the peak of your career, you took time to get a Journalism degree. What informed that decision and how has it impacted your career?" Korede responded saying:
KOREDE BELLO: I love education, not so much traditional education but I love to learn how the world works and how the human mind operates. So getting a degree in Mass Communication seemed congruent with what I was already doing professionally; mass communicating art to the world. Writing a headline is not so different from writing a chorus. They both have to be catchy and evoke some sort of emotional reaction. News and Music are both languages of emotional connection. So yes, it is a good thing to be educated on your passion.
When asked how he's been able to take care of his mental health while being in the chaotic entertainment industry, Korede Bello said:
KOREDE BELLO: I have observed that you can be the richest or the most famous person in the world and yet still be unhappy or unsatisfied on the inside. The internal environment is where true health lies. This means that external stimulation cannot fill the void of internal sanity. Everybody you know is looking for the same thing, to be well. Wellness is true wealth. We chase after money so that we can feel it well.

Entertainment is just another form of medicine. But the 'doctors' often forget that they're human too and also need to pay attention to their internal environment. I see myself as a music medicine man, who is very aware that he also needs healing. I create time for healing so that my artistic creations can heal others. The world is getting crazier by the day because you have to be a little crazier than the norm to stand out. So we need more healers in the entertainment space. So for me, life is about balance. Wellness is a skill you can practice and not just something you pray for. How do I take care of myself? I allow myself to be taken care of.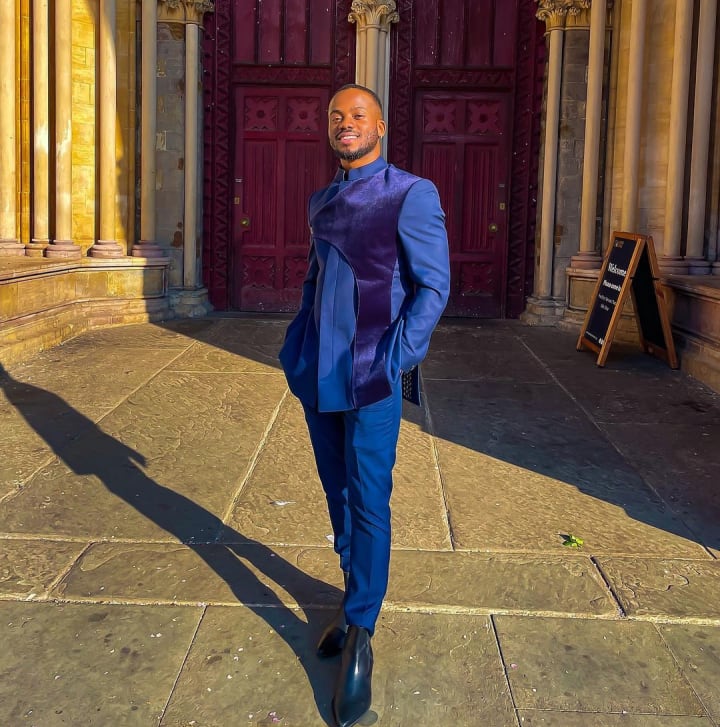 What do you think about what Korede Bello said? Let me know your thoughts by leaving a comment
Why I Don't Have Plans Of Unveiling My Children's Faces To The Public – Funke Akindele
CT Veteran Nollywood actress, Funke Akindele, who recently separated from her husband, JJC skillz, has stated why she won't be unveiling her children's faces on social media.
Recall that she gave birth to a set of male twins in 2018 and hasn't revealed their faces since then.
In an interview with media personality, Jide Okonjo, she insisted that she has no plans of unveiling her children's faces to the world because she was a well-known actress and her estranged husband who is also their father is a well-known media personality.
She believes that it is a safe thing to do since they are children and both of their parents are public figures.
She said she decided to give them a choice to choose if they either want to be public figures or not when they are grown up.
In her words:
"Their dad and I are already in the public eye. They are children, don't forget. They are children. They are vulnerable so you have to just keep them away, keep them safe. Let them go to school, let them enjoy their lives without "Ah!" that's Jenifa's son. That's JJC's son. Ah see his leg, see his face" Leave them private!"
See the post below:
Regina Daniels Mistakenly Reveals Her Real Age While Flaunting Her PVC On Social Media (Photos)
Secret exposed as Nollywood actress Regina Daniels mistakenly reveals her real age while flaunting her PVC on social media.
It will be recalled that the beautiful Nollywood actress stated that she was 16 years old after celebrating her previous birthday in 2016
but some of her fans still insists that she is above that age.
Unfortunately for her, she mistakenly reveals her real age while flaunting her PVC on social media.
The personal information in her PVC reveals that she was born on 10th October 1998. This information reveals that she is currently 24 years old as of 2022.
The event has got so many people talking on social media