How To Grow A Facebook Page From Scratch
How To Grow A Facebook Page
How To Grow A Facebook Page: Facebook is the most popular social media channel for businesses. It offers the opportunity to get in touch with customers and potential customers. Facebook pages provide a better understanding of customer needs, all while staying in touch with them, enhancing their experience and making them feel like they are not alone.
The goal of this section is to show how to grow your Facebook page from scratch. Here are some steps to take into account:
Now, you might be wondering why someone would want to grow a Facebook Page from scratch. Well, there are many reasons to do so. If you currently don't have a Facebook Page for your business, then you're missing out on all of the marketing opportunities that this platform has to offer. You'll need to create an audience if you want any exposure in this digital world and Facebook is one of the best ways to do so.
It is important to understand that Facebook is not just a social network anymore, but also a search engine. People use it to find businesses and brands online.
Running Facebook ads should be one of your strategies for growing your page. These ads can be targeted so that you are reaching the people who are the most likely to become customers or followers. You can also create custom audiences through your pixel so that you reach the people who have already engaged with your page or come from other marketing campaigns you have run on Facebook.
Sponsored Story Ads: these are the traditional ads that show up in News Feeds, just like any other post on Facebook does
Page Post Ads: these show up next to posts by the Page they're promoting
Setting Up A Functional Facebook Page
– Set up your page – Create an engaging profile image that will attract attention and share what you're doing on your page – Build relationships with other pages who share similar interests as yours – Share updates on a regular basis so customers know there is always something new happening – Respond quickly to any comments or questions posted by customers or potential customers
See Also: How To Identify And Protect Yourself From Crypto Scammers 2022 By Charles Awuzie
Setting up a Facebook page is a great way to interact with potential and current customers. This article will provide you with all the information you need to set up a Facebook page that is functional and aesthetically pleasing.
How To Grow A Facebook Page
Now, we will look at how to go about setting up your new Facebook page. We'll help you find an attractive template, choose your desired content, and choose the best settings for your Facebook page.
We'll also look at some of the more advanced features on Facebook pages such as adverts, events, video uploads and more!
—
To set up a Facebook Page, you need to create a personal profile and choose the icon for your page.
You can add the icon to your personal profile and then go to the "Create Page" tab and follow the instructions.
After setting up your Facebook Page, you should fill out basic information about your company such as: company name, website address, logo URL, language and location.
It is also advisable that you include a picture of you or someone from your team on the page's timeline.
How To Grow A Facebook Page
Always remember that Facebook is a social media platform which is used by millions of people across the world. To maintain a Facebook page, you need to understand the different aspects such as how to set up a Facebook page and how to grow followers with organic marketing.
Here are some important aspects that you should know when setting up your Facebook page:
– Create a complete profile
– Customize your profile picture
– Build a status update strategy
– Use Facebook Ads to grow followers
How To Grow A Facebook Page
Why My Parents Held Family Meeting for Me – Taaooma
Nigerian comedian, skit maker, and content creator Taaooma is not only one of the most famous, most respected, but also one of the most financially buoyant creator in Nigeria and in Africa.
During a new interview with TVC's esplash, the skit maker famous for her numerous characters, funny videos, and engaging content opened up about how she started, how lucrative the business is, and why her parents held a family meeting for her. Here's what she said.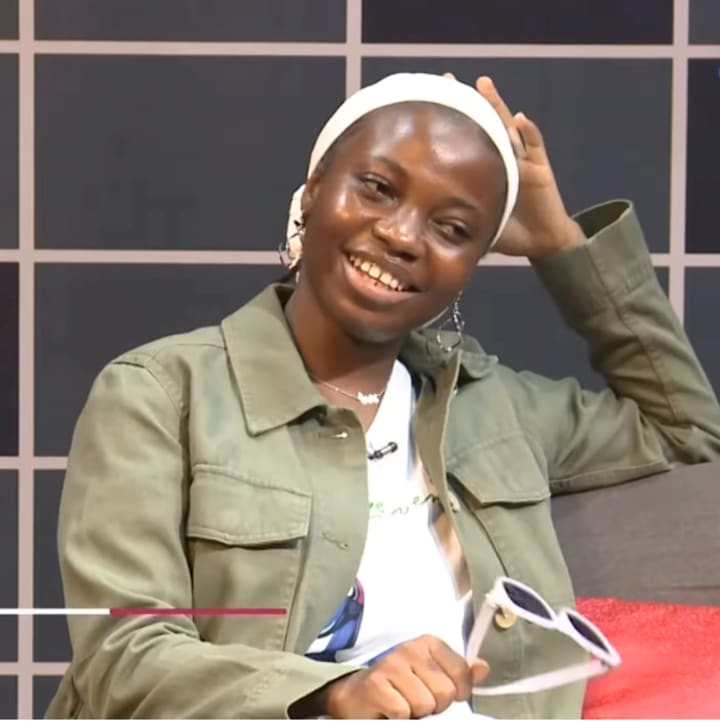 Speaking about how she started, Taaooma said:
I started off when I was in school, when I was going into school. I wanted to learn how to edit basically, so that's what I wanted to learn. So I started this Taaooma stuff so I can have something for myself to edit with. So that was how I started so when I started off with it, I noticed that people loved what I was doing so I put in more effort into the character thing. But editing was my main focus. That's why when people say "someone is editing", it sparks in my head like no no no, give me my credit.
"How did your parents take your transition into comedy?"
It's not me that used my mouth to say it. Which house is that? Where? No oh. How will you open your mouth and just come and say you want to be doing comedy, no oh. I was just doing it on the side. My mum was indifferent, as long as it doesn't affect your school. The time I had a career over! "Heyyy! God!!" This was the exact reaction. They blamed it on "carrying laptop up and down, gbo gbo laptop e ni ma gba da nu". Because small scale business management? I don't know how I failed it. I don't understand. So my mum made family meeting with my dad. You know that kind of standing where you now put your hand behind your back. And then they're asking you what happened? What happened? "Sir, I don't know what happened. That lecturer hates me" (laughs). So it was just along as it didn't affect school, yeah.
"Do you get respect on your account balance?"
Well, we should not beat about the bush, we should just speak to the corner. It's good, honestly, it's good. Content is like the new crude oil for me. You just need to break out. And that's what I tell people. A lot of people say "Taaooma come and teach me, come and teach me," nobody is teaching anybody anything. If we're saying we should teach you or anyone saying they will teach you, for me it's just rubbish. I don't see anybody teaching anybody anything. You just have to come up with a new thing with your content and sit down and wait for God to do His work.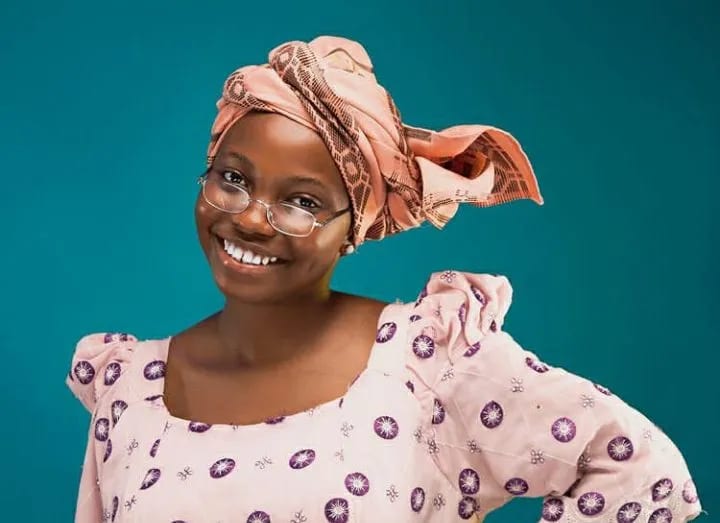 It's good to see Taaooma doing very well financially from content creation. It's wonderful to see how her parents have also come around to it. This content creation is a very lucrative business, hmm, maybe it's time me too I chook head inside oh 😂.
What do you think about what Taaooma said and the stories she shared? Let me know your thoughts by leaving a comment either below.
That's All.
7 Celebs You Didn't Know Have Famous Parents (Photos).
One celebrity in a family is rare. 2 celebrities, even rarer. But one celebrity who gives birth to another celebrity that goes on to be a household name that stands on his/her own without the parent, now that is super rare!
For today's list, I'll be sharing with you 7 celebrities who have celebrity parents that you may have never known about.
To make sure you don't miss out on any new interesting, funny, exciting stories I post everyday, be sure to like and follow me on Facebook.
1. Kizz Daniel and Kola Anidugbe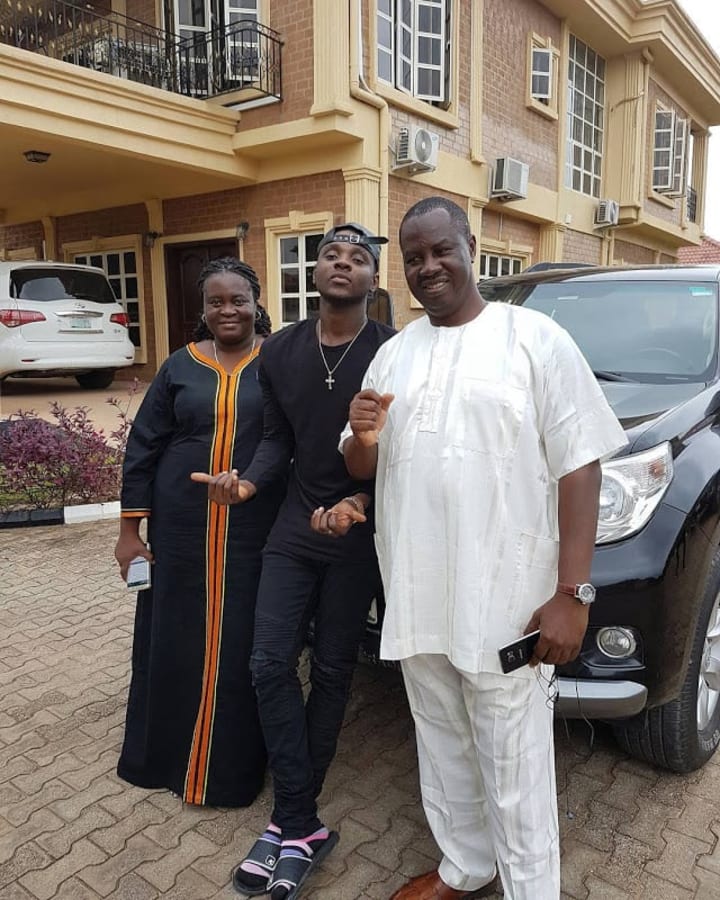 Kola Anidugbe was an artist and lecturer of Art at the Federal College of Education Osiele Abeokuta. He passed away in 2015 but his art is still sold across the world and on the internet. His piece titled "Woman and child – Signed 1994 " is currently selling on eBay at a whooping £265.00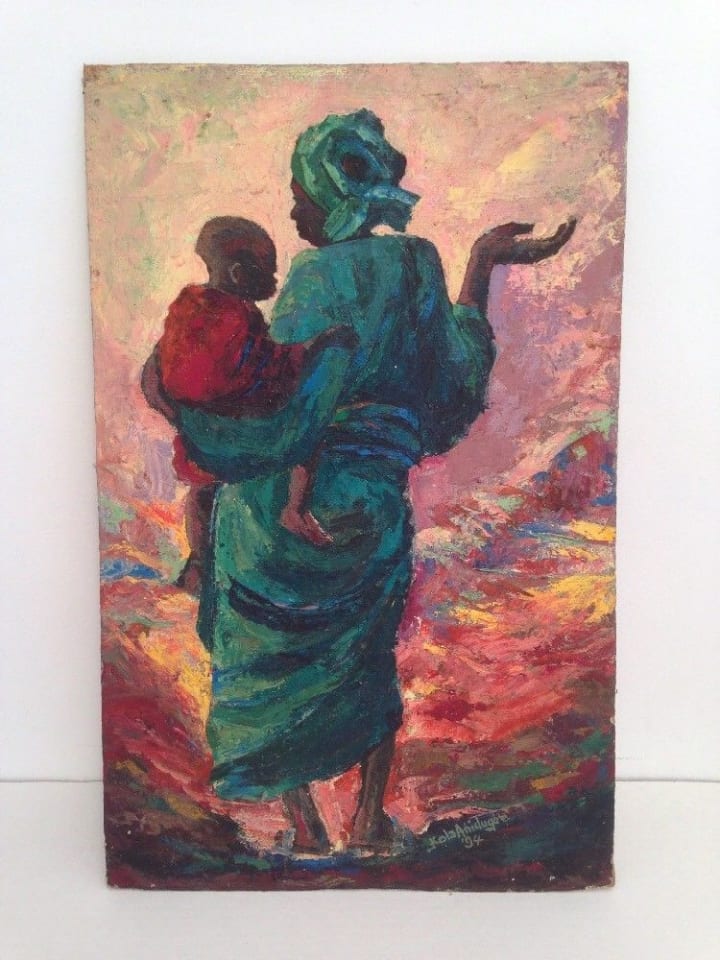 Kola's son, Tobi Anidugbe, more popularly known as Kizz Daniel is a mega-successful Nigerian singer who has written and produced hit songs such as Woju, Mama, and Laye.
He and his dad were really close and it is reported that he was with his father at the time of his passing.
2. Falz and Femi Falana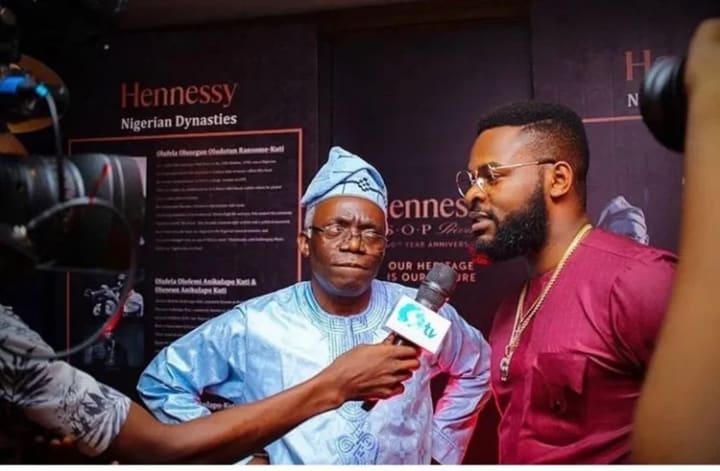 Femi Falana (SAN) is one of Nigeria's most popular lawyers. He is also a human rights activist and was the chairman of National Conscience Party in 2011.
His son, Folarin Falana better known as Falz is a Nigerian rapper. He followed in his father's footsteps graduating with a degree in law from the University of Reading. He is also a human rights activist and uses his music and celebrity platform not only to entertain but also to educate.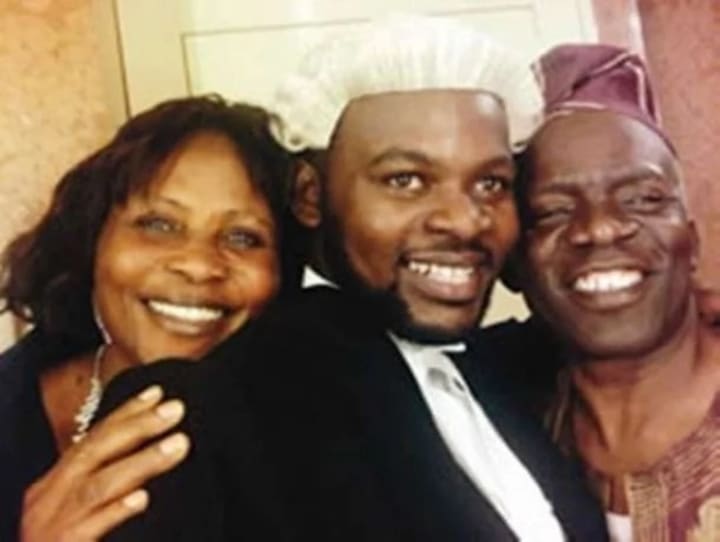 3. Yul Edochie and Pete Edochie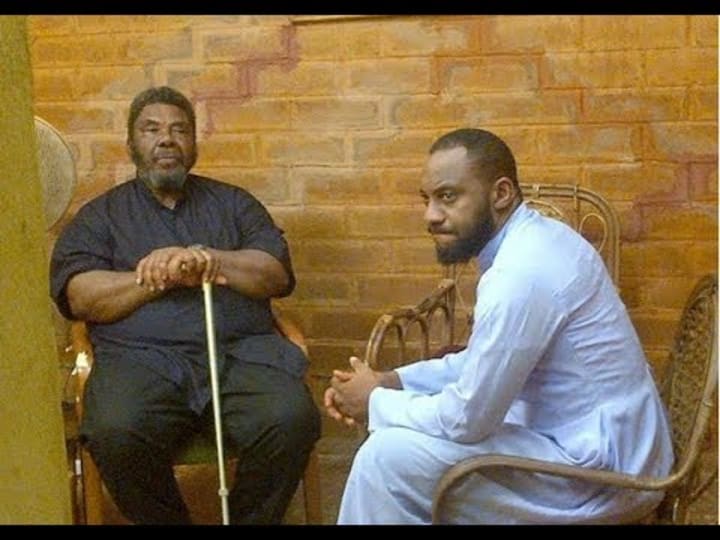 How often do you see this happen? When father and son both go on to become prolific prominent actors based on individual talent and merit.
Yul Edochie is a Nigerian actor who has starred in blockbuster movies ranging from Wind of Glory to Moms at War. The 38 year old actor is a father of 4: 3 sons and 1 daughter. Who knows, maybe one of his children will become an actor and continue the family tradition 🤣.
Pete Edochie is a veteran Nigerian actor that is widely popularly across the world. His breakout role playing the lead character, Okonkwo, in the NTA adaptation of Chinua Achebe's classic novel, Things Fall Apart propelled him into the limelight and he's never left since. As recently as 2018, he starred in the Netflix movie, Lion Heart.
4. Dr. Sid and Justus Esiri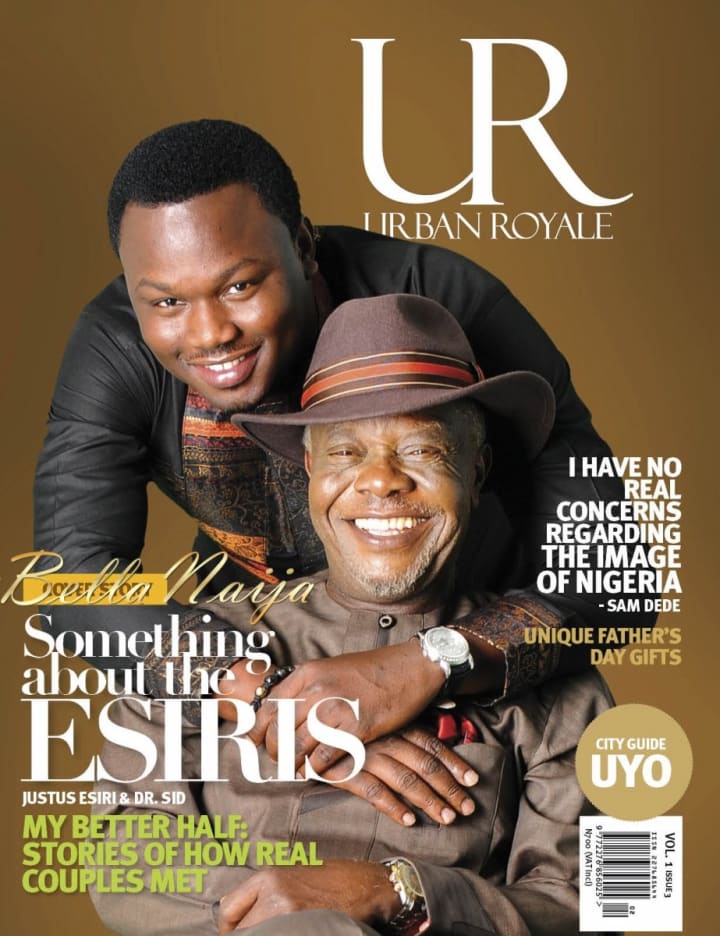 Dr. Sid is a popular Nigerian singer who is a part of the very popular Mavin gang. He started dabbling in entertainment in 1999 and has since gone on to record hit songs like Something About You, Surulere, and Kabiyesi. He is the son of Justus Esiri.
Justus Esiri is a veteran Nollywood actor who passed away in 2013. In his lifetime, he shot into the limelight after starring in the titular role of theh very popular Nigerian Television Authority TV-series The Village Headmaster. He just like Pete Edochie also starred in the film adaptation of Chinua Achebe's book Things Fall Apart and this greatly raised his star. He later went on to star in other classic movies such as Six Demons, Wasted Years, and Doctor Bello.
5. Femi Kuti and Fela Kuti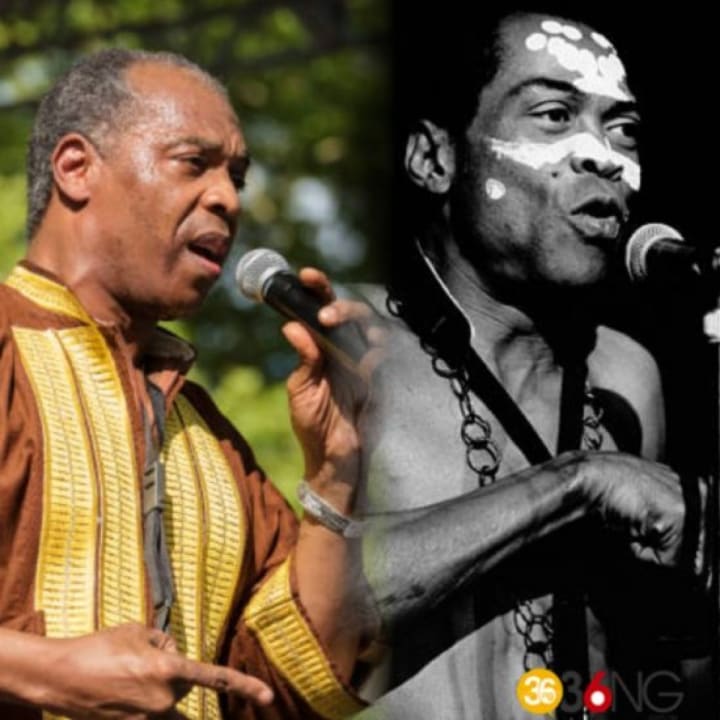 Two icons.
Femi Kuti is a popular Nigerian musician who was born in London and raised in Lagos.He started his musical career by playing in his father's band, Egypt 80. In 1986, Femi went out and started his own band called Positive Force thus establishing himself as an artist outside the shadow of his father. He has since gone on to achieve worldwide success, and has been nominated for a Grammy award 4 times but never won. He is the son of worldwide legend, Fela Kuti.
Fela Kuti was a popular Nigerian multi-instrumentalist, musician, composer, and pioneer of the Afrobeat music genre. He was also a human rights activist. At the height of his popularity, and ever since then, he has been referred to as one of Africa's most "challenging and charismatic music performers" and Africa's Greatest of All Time. His legacy is felt up until today and his sound and music has been repurposed and repackaged so many times by many of today's leading artistes ranging from Beyonce who cited him as an inspiration, to Nigeria's African Giant, Burna Boy.
6. Di'Ja and Joe Blell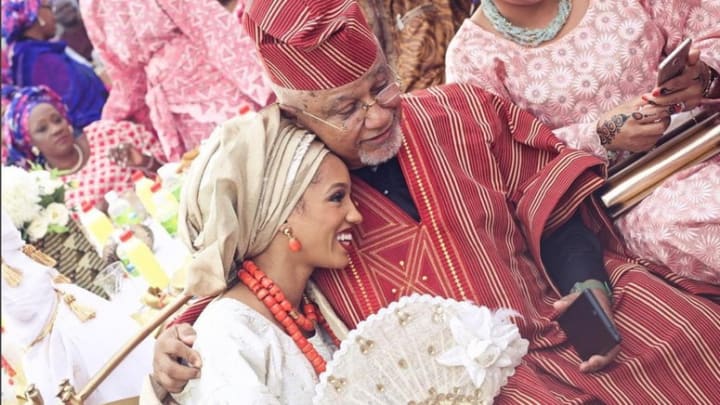 Di'Ja is a Nigerian singer most-famous for being a part of the MAVIN dynasty. She was featured on both of MAVIN's hit songs, Dorobucci and Adaobi. On her own, she has gone on to amass significant success and grow her own niche of fans. Some of her hit songs include Awww, The Way You Are, and Falling For You. She is the daughter of Sierra Leonean politician, Joe Blell.
Joe Blell is a renowned politician from the opposition Sierra Leone People's Party. He served as Sierra Leone's High commissioner to Nigeria from 1993 to 2002. He was also Sierra Leone's Deputy Minister of Defense from 2002 until 2007.
7. Clarence Peters and Clarion Chukwura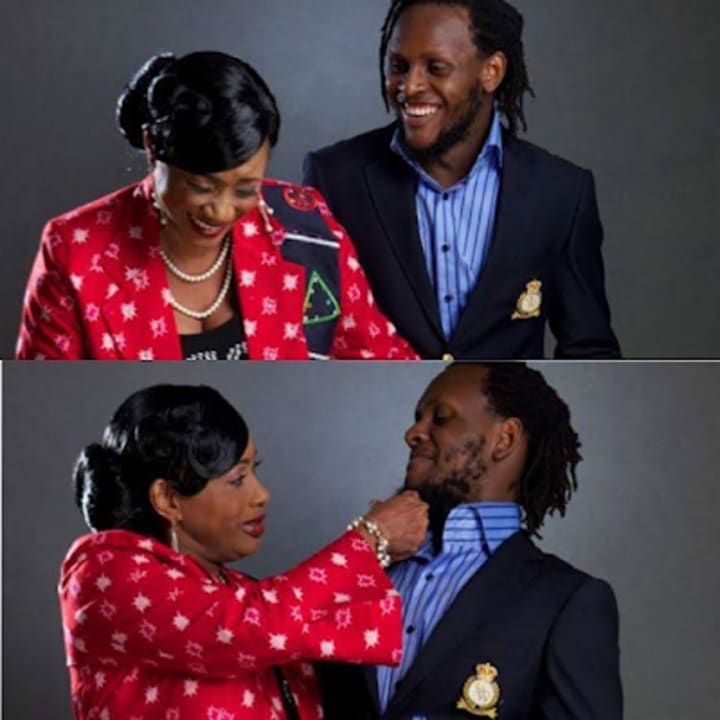 Clarence Peters is a renowned Nigerian music video director, filmmaker and cinematographer. He is also the founder and CEO of Capital Dream Pictures which is a production company that specializes in work pertaining to the performing arts, film and video. He is also the founder and CEO of Capital Hill Records, a record label home to Nigerian powerhouse artistes such as Chidinma, Tha Suspect and Illbliss. He has directed for virtually every major Nigerian artiste and shows no signs of slowing down. He is the son of Nollywood actress, Clarion Chukwura.
Clarion Chukwura is a veteran Nigerian actress and humanitarian. Her acting career began in 1980 but she became popular when she featured in the popular soap Mirror In The Sun. Since then she's gone on to act in standout movies such as Money Power, Caught in The Act, and Apaye.
Singer Harrysong arrested on arrival in Lagos over elimination claim against Soso Soberekon
Popular Nigerian Singer, Harrysong has allegedly been arrested by men of the Lagos state police command this morning following his rift with music executive, Soso Soberekon.
Recall that Harrysong had in a recent interview alleged that Soso Soberekon, who he described as his enemy, sent some people to kill him in Port Harcourt.
Soso in reaction petitioned the Inspector General of Police on grounds of defamation and threat to life by Harrysong. The music exec sued Harrysong and demanded N500million compensation for tarnishing his image.
According to Linda Ikeji blog, who broke the news, as soon as Harrysong arrived Nigeria, the officers picked him up at the airport.
The Police said he will be questioned over the matter and might be released or detained further depending on the outcome of their investigation.