Anikulapo: Good movie, bad plots, poor ending
This brief review of the new movie by Kunle Afolayan takes a look at certain scenes and how they should have been portrayed by the directors of the movie.
This review is in no way an attempt to rubbish the hard work of the makers but a honest criticism.
1. The first scene that startled me was the one involving the lead character Saro and Queen Arolake in bed together. The nude display by both characters was an unnecessary attempt to imitate foreign movies. It also felt awkward due to the fact that Saro had earlier been in bed with an older woman, Awarun, with no such display.
2. I doubt there was any need for the character played by comedian Mr Macaroni other than to throw viewers off and call them back from the direction they were sent to by the movie's directors. To briefly explain, Macaroni walked up to Saro and warned him about Awarun, saying the older woman destroys the destiny of young guys after sleeping with them. If the directors had made Macaroni appear jealous of Saro's affair with Awarun, the warning by Macaroni would have been seen as issued out of jealousy.
However, nothing close to what Macaroni warned about was perceived with Awarun. As a matter of fact, Awarun cared for the life of Saro by warning against the in and out between him and the Queen. So, what was the essence of Macaroni's warning other than leaving viewers anticipating a doom from Awarun which never came? It was a weak plot at creating intrigue.
3. The first resurrection done by Saro had some good acting and bad acting. It was quite awkward that Queen Arolake immediately believed Saro could use the gourd dropped by a black bird to bring back a dead person to life. The directors ought to have allowed her to reveal her suspicion of the gourd when Saro suspected that she was hiding something(the gourd).
If it had happened that way, then it would have made sense when she gave Saro the confidence to try to exercise what she suspected by raising the dead with it. Her coming up with the resurrection idea when they saw people wailing about a dead child seemed too sudden. Also, the wailing crowd overacted.
Was the dead child the breadwinner of the entire crowd that the directors had to make them wail uncontrollably? Why couldn't the directors just allow a few people do the crying while the majority look worried or curious?
4. Saro getting married to more wives is a thing that was common with people of old. It is understood that Queen Arolake had issues conceiving. However, making Saro's other fruitful wives mock Queen Arolake while their husband looked away is something that we've seen too many times in Nigerian movies. It's just played out. If the directors' didn't care about using played out styles, then the movie should have ended the way I explained below.
YOU NEED TO DO THIS: Follow us on Instagram – get all the juicy news and gist directly in your favourite app!
5. How did the movie end? It ended when no one expected, thereby leaving viewers hanging. To briefly explain, the king of the town Saro found sojourn lost his son, the heir to the throne. For him to have called for Saro's intervention showed desperation which means he would be willing to do anything to have his son back to life. Sadly, the directors of the movie made him put up a resistance to Saro's request for his daughter's hand in marriage as payment for the work he was about to do(resurrect the dead prince). Since my childhood days, African stories have been about kings promising half of their kingdom and their daughter's hand in marriage to any brave man that could solve their kingdom's problems. It was quite awkward seeing a king rejecting Saro's proposal.
6. How should the movie have ended? Instead of the movie ending at the scene where Queen Arolake switched the content of the powerful gourd and left Saro in failure while trying to resurrect the dead prince, the movie should have ended differently. My suggestion is this – The king should have accepted Saro's proposal and given him his daughter's hand in marriage. That would have set up the next plot which will see Saro grow extremely rich and influential with a large following due to his powers. With Saro married to a princess, access to the palace would be easy for him, leaving him eyeing the throne and eventual killing the king to install himself on the throne. His next move would see him head to the Oyo empire to take revenge for what they did to him. Definitely, many people would love to be his soldiers because of his possession of the power to raise the dead. However, after several days of trying to breach Oyo kingdom's defence, Saro would meet his doom as he discovered that his powerful gourd had been switched by his wife, the princess and daughter of the king he killed and usurped. She did that to avenge her father. Her action would leave Saro's soldiers fleeing after it became obvious that they won't be able to resurrect if killed in battle. The ones who stayed eventually handed him over to the Oyo empire in order to receive pardon.
I was raised to respect and value men, I don't see myself as a King – Actress Ini Edo speaks.
Ini Edo, a well-known Nollywood actress, has admitted that she was brought up to respect and value males.
The actress recently discussed why she doesn't identify as a feminist.
I'm not a feminist, she declared, but I prefer to rule alone as a queen and let men serve as kings.
Ini Edo revealed this in a recent video, noting that she doesn't refer to herself as a king like other women because she was raised to value males.
In the statement she made in the video, she said, "I was raised to respect and value men; I don't see myself as a king like other women." I'm not a feminist; I prefer to represent both genders because I was raised that way. "I'm not the type of woman who tries to be the king; I prefer to be a queen on my own and let the man be the king."
In other news
"My Uncle is not here, but he is here in spirit" Beyonce says as she receives 32nd Grammy Awards.
Beyonce makes history as she receives her 32nd Grammy award.
Beyonce becomes the most decorated artiste in Grammy's history.
The singer wins 4 out of her 9 nominations at the 64th Annual Grammy Awards in Los Angeles on Sunday.
Beyonce has broken the record for the most Grammy Award wins of all time, after collecting her 32nd awards, breaking a record previously held by the late composer Georg Solti, who had 31 career trophies.
The singer won the best dance/electronic music album for 'Renaissance' at the 65th Annual Grammy Awards in Los Angeles on Sunday.
Receiving the prize, she said, " I'm trying not to be too emotional. I'm trying to just receive this night. I wanna thank God for protecting me, Thank you God. I like to thank my uncle who is not here, but he is here in spirit. I want to thank my parents, my father and my mother for loving me and pushing me. I like to thank my beautiful husband, my beautiful three children who are home watching me"
Destiny Etiko, regina daniels and Other Celebrities Who Moved Their Parents From Mud houses To Mansion (Photos)
The parents of these celebrities laboured day and night to ensure their children excell and after these kids became super famous, they were able to tell their parents 'Thank You' with a lavish gift.
We present 7 Nigerian celebrities who gave their parents the comfort they deserve by building or buying mansions for them.
1. Regina Daniels
In 2019, Famous Nollywood actresses Regina Daniels surprised her mom with a duplex she built for her.
According to Regina Daniels, the house was just a token of appreciation for her mother. Did she also gift her father a house? Hmmm..no one knows.
2. Destiny Etiko
In 2018, Nollywood actress, Destiny Etiko put a smile on the face of her mom by giving her a house as a birthday gift.
Sharing photos of the beautiful house on Instagram, the actresss wrote:
'In my own little way my BACKBONE….I give to you this little token as your birthday gift for all the love u have shown my siblings and I
. The future will be better age gracefully Sugar. HAPPY BIRTHDAY"
3. I go dye
In 2017, Ace comedian, Francis Agoda aka I Go dye did what every good son would want to do for their mum by gifting her a mansion valued at $5.4 million. See some beautiful photos below:
4. Francisca Ordega
Francisca Ordega is one of Nigeria's finest female footballers. On the 16th of January 2020, the football star unveiled the house she built for her darling mother.
Sharing photos on Twitter, she wrote:
"Congratulations Mother…enjoy your new home…love you so much sweetheart….you are the best Mum in the world…you deserve the best….I know you are proud of me….now I can marry in peace."
5. Asisat Oshoala
Asisat Oshoala is like the Lionel Messi of Africa's women football.The soccer star gifted her loving parents a magnificent home in August 2019.
7. Raheem Lawal
In 2018, Nigerian footballer, Raheem Lawal Gifted his Mum a lovely house.
7. Comedian Gbovo
In 2019, Instagram comedian, Gbovo mad his mum the happiest woman on earth by building a beautiful house for her in Edo State.
8. Chizzy Alichi
In December 2017, popular Nigerian actresss, Chizzy Alichi moved her parents from a mud house to a magnificent mansion as a Christmas gift.
Destiny Etiko and Other Celebrities Who Moved Their Parents From Mud To Mansion
10 people who went too far to look like Thier favorite celebrities (Photos)
There was a point in the lives of most people that they wanted to live the lavish lifestyle of their favourite celebrities. Some people did not stop there, they took their obsession to the extreme, they wanted to look like their favourite celebrities.
Well, I guess nothing says how much you like a person than wanting to look like them. Below are ten people that went too far just to look like their favourite celebrities. Well, most of them did not end well, let's take a look at the list below..
10) Jordan James Parke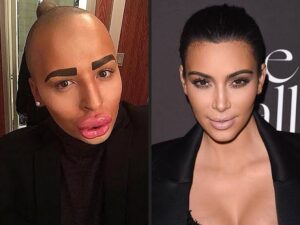 This young man is a British make-up artist, who was so obsessed with looking like the popular Kim Kardashian. It would surprise you to know that he has done over 50 surgeries that cost him over $150,000. He spent this fortune just because he wanted to look like a reality Tv star. He went on to proclaim himself as the British Lip King because of his huge lips.
Jordan has faced some health issues in his quest to look like Kim Kardashian. Because of his numerous nose jobs, he started having respiratory issues. Despite how far he's gone, Jordan insists that he didn't want to look like Kim at first, but the resemblance just grew on him naturally. Now that's funny, hahaha.
9) Fran Mariano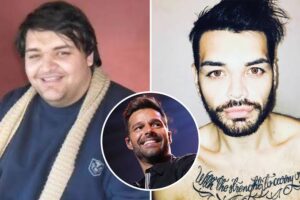 Who wouldn't want to look like the handsome Latin superstar Ricky Martin?. Ricky has stunning good looks and you can't blame people for being so obsessed that they wanted to look like him.
Fran Mariano joined an Argentine reality show known as "Weight Issue". Fran who was formerly overweight, lost about 200 pounds and people started to tell him that he looked like Ricky Martin, and he took this a bit too personal.
Taking the complements way too personal, Fran decided to undergo 28 surgical operations just because he wanted to look like Ricky Martin. He spent over $14000 on his surgeries. That's a huge sum he spent on trying to look like someone else.
8) Donna Marie Trego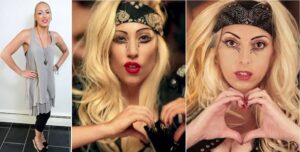 Donna Marie Trego has made fame for herself after her impressive impersonation of the legendary Lady Gaga. She didn't stop with just trying to impersonate Lady Gaga, she has spent over $70,000 just to enhance her resemblance with Lady Gaga. Well she's become a diva herself, so I guess whatever she did is finally paying off.
7) Matt and Mike Schlepp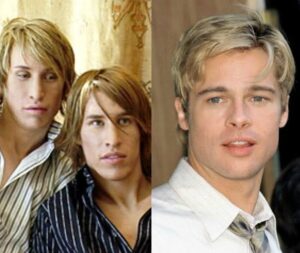 Well, they are twins and they went all the way just to look like Hollywood Star Brad Pitt. Matt and Mike were ready to go under the knife just to look like Brad Pitt.
They underwent over 20 surgeries on their jaw, chin, nose and cheeks, just because they wanted to become the carbon copy of Brad Pitt. Well, to be honest, we can't say that the final results came out as they had expected, but they still feel that they look very much like Brad Pitt.
6) Sahar Tabar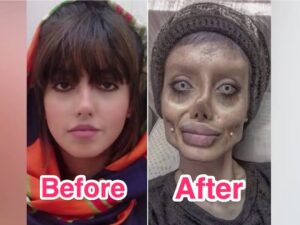 Well, even though we can't judge the choice that people make, sometimes you just have to know when it's time to stop. Sahar Tabar from Iran did not know when it was time to stop and she ended up looking more like a corpse rather than Angelina Jolie.
Sahar became very popular on social media back in the year 2017 after she posted photos of herself which she looked like the Zombie version of Angelina Jolie. Rumour says that Sahar underwent 50 surgeries.
She tried to defend herself by saying that she deliberately exaggerated the creepy nature of her pictures with the help of make up and the use of Photoshop. Unfortunately for her, the famous IG influencer got her account deleted when she was arrested and sentenced to spend 10 years in prison in the month of December 2020. She was sentenced on the grounds of blasphemy, instigating violence, violating their national dress code and instigating people to commit corruption.
5) Adam Daniel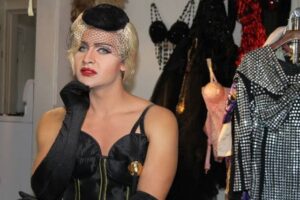 I guess there's nobody that knows more about expressing yourself than Adam Daniel. Adam's lifelong passion was to be an impersonation of Madonna. Adam has spent almost $200,000 on surgeries, and he has been able to build a career around being Madonna. He has a drag name known as "Venus D-Lite". He has even walked the runway of RuPaul's Drag Race.
Adam has said that the works of Madonna changed his life when he was going through a very bad time, this is why he choose to be like her.
4) Toby Sheldon
Toby had already taken a decision on what he wanted to be for the rest of his life at the age of 23. He wanted to be the carbon copy of Canadian superstar Justin Bieber. Toby spent about $100,000 just to look like Justin Bieber. Toby had botox, chin reduction, eyelid surgery, and other procedures done just to look like Justin Bieber. Unfortunately, Toby passed away in the year 2015 at the age of 35 after a drug overdose.
3) Pixee Fox
Most people on this list wanted to look like fellow humans, but how about some that want to look like a cartoon character?. Pixee Fox has declared herself a living cartoon after she went through extreme measures just to look like a cartoon character. Pixee removed 6 ribs just to achieve a 14-inch wasp waist. She said that she never felt human, that she always saw herself as a fantasy creature.
She has admitted that she's addicted to plastic surgery. She's undergone over 200 surgical procedures which include altering the colour of her eyes pumping up her chest and also realigning her face.
2) Herbert Chavez
Herbert Chavez holds the Guinness World record for the largest collection of Superman memorabilia, but that wasn't enough for him. Herbert wanted to look like superman, so he underwent 13 surgeries and we are not surprised because Herbert has been a fan of Superman since he was 4 years old. Herbert says that he wants to be a source of inspiration to the young ones by bringing a positive role model. He said that he wanted to show children that superman is real and not just a fictional character.
1) Oli London
The BTS pop group is definitely one of the most successful pop groups in the world. A die-hard fan known as Oli London was very determined to look like Park Jimin.
Oli went viral back in the year 2018 after he appeared in the British TV show known as "Hooked on the Look". Oli spent over $200,000 on his surgeries. It's not just about the looks, Oli also produces his own K Pop songs.