It is golden to understand the best side jobs you can do even while doing that monthly paid job. An Igbo proverb says that "our thing" does not mean "my thing". I have chosen to start with this popular Igbo adage so that you will understand this article.
First of all, it's important to know that not everyone needs to become an entrepreneur or own a business. But anyone who wants to be rich, even as an entrepreneur or an employee, needs to have some ideas on how to generate wealth. Wealth can never be built on just one stream of income, which is why you hear rich men brag about their many streams of income. And as an employee, you must understand this principle. Which brings me back to my Igbo adage "Our thing means my thing" Your job is only momentary, you don't own it.
Someday you're either thrown out or you need to change. You'll never stay there forever, and if you don't take action now that those paychecks are still monthly, it will become difficult when they stop coming. This writing is to help you see the need to start a side business. I'm going to introduce you to 10 of my best side jobs where you can make some extra cash.
What makes them the best side jobs?
This will probably be the question you may be asking yourself right now. -Smile-,
Here are the reasons why I consider them the best side activity you can engage in:
Easy to start: These side waves are very easy to start. Easy means you don't need much to get started. You only need the basic knowledge to start these jobs, and with it you can deepen your knowledge as you develop any of these side activities.
Little to No Capital: Here's the good thing about these side businesses and what makes them the best. They require little or no capital to get started. Having basic knowledge and knowing what to do is enough for some of these side jobs.
Can Be Done Anywhere: I understand that you are an employee and want to earn some extra money without losing sight of your job or possibly doing anything that might cause you to question yourself or get fired at the location of work. No! This is not our motivation. And this is also the reason why we have compiled these best side jobs that won't stop you from doing your normal tasks well. It's a win-win situation and more money in the bank. These secondary activities can be performed anywhere and anytime. All you do is set your preferences well.
Massive ROI: Yes, you read that right, the return from Invest is enormous. Some of that secondary hustle and bustle can cause you to start your business if you want to. The benefits are enormous.
So now you can see why I am saying these are the best side jobs you can hire.
10 best side jobs for extra money
After successfully explaining the reasons why these jobs are the best side jobs, I think it's time to get into the details.
1. Start a YouTube channel
It seems the easiest of all to get started without too much stress or capital. To start a YouTube channel all you need is your phone, a tripod and a ring light for a comfortable start if you understand your smartphone very well, you can even do without the tripod and the lighting. Now to show you how easy it is to get started, you can also decide to create animated video with tools like Soapbox, Loom, Renderforest, Animaker, iMovie, Movie Maker and other editing apps. video for your phones and your system. You can check out this youtube channel for more information on how to make an animated video. Do well to like, share, comment and subscribe.
Youtube takes consistency, patience and time. If you, do it right, you will earn well with this side activity. For starters, get a good niche where you are sure to easily build an audience. Get a niche that will attract people. Create great video content and share the link on social media. Gradually learn how to reach more people, improve your SEO. It's also a great way to scale up the YouTube channel and get your video to reach more audiences.
All you need to open a YouTube account is just your google mail. Those that you create a Gmail you automatically have access to to create a YouTube account.
2. Start a blog.
Blogs, just like YouTube, are also well paid, you need to understand the niche you want to step into. Can you regularly blog post about this niche? It all counts. Blogs allow you to brand and control your assets.
To blog, you have to start by having a domain name that will cost you a small amount of money and also a hosting platform. For those who don't have the money, you can also decide to start blogging with blogger, blogger allows you to have a domain name and a web host, all for free. To start a blog, you will need to have a particular niche that you can write about. It could be your passion or something you know that will grab your audience and you are good at it.
You can also earn extra money by monetizing your blog in several ways such as:
Thanks to Adsense. Google ads are always the best choice for any blogger or YouTuber
Create and sell your product on your blog.
By sponsored post. When you have a large number of audiences visiting your blog or youtube site, you are likely to have individuals, companies come to advertise their product with you. It's a good way to earn money.
Ebook, It will go well with the blog site, however, YouTuber does that too and it makes them money.
Added store link.
3. Get started in dropshipping
Over the years, dropshipping has proven to be one of the best ways to make money online. As an employee, this is something you have to do for extra income, even why work. Dropshipping is an online business that allows you to sell your products to the customer online without having to buy inventory.
A good thing about Dropshipping is that you don't even have to see the customer, you get products from the manufacturer or seller and place a buyer in your store to buy and the seller ships it directly and you earn your money . Another great thing is that it is not expensive to start. All you need to do is focus on marketing and customer service, that's the lifeline of this business. Dropshipping pays well, depending on the effort you put in and your knowledge of marketing as well as customer service will help you in this business. Shopify is a great place to start your Dropshipping.
4. Become independent (Freelancer)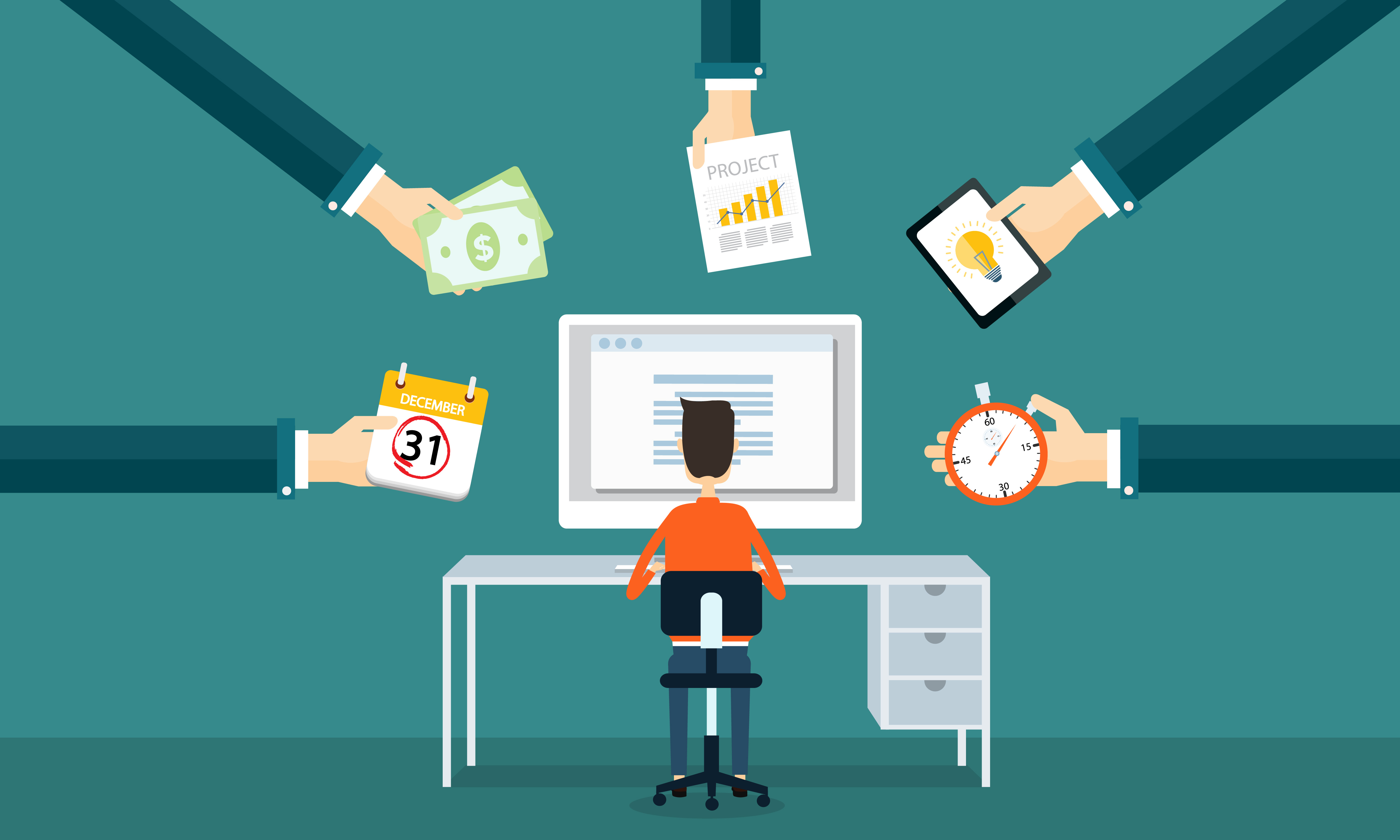 Nowadays a lot more can be done online, do you have any skills? Such as web development and design, writing skills, graphics, video editing and others. Then you can also become self-employed even when you are working for a job. Monetize your skills online, several platforms have been built for a community of freelancers to get their jobs. Such as Problogger, Fiverr, Upwork, Freelancer.com and many more. You have to start with Fiverr or Upwork because you are likely to easily land your first job here. You can also use others.
All that matters is how dedicated and hungry you are to get your first job. As a freelance writer, you can earn around $ 500 to $ 3,000 per month, depending on how serious you are with the hustle and bustle. Ideally, if you are good at what you do, you will always have people coming back to you for more work. As a freelance writer, you should also understand customer service and marketing. Treating your customers well will go a long way in helping you make more money online.
5. Social media management
Here you need some social media management skills to get started. But hey! don't be discouraged, you can learn this online. With this knowledge, you can begin to manage the online presence of small businesses or individuals. You can grow this business and get extra cash in return. One of the important aspects of using social media to grow your business is advertising. It is important to know how to go about it. Facebook alone has over 2.5 billion monthly users, Instagram 1 billion users, Twitter LinkedIn 330 million and 660 million respectively.
Online is where the market is. Your ability to manage corporate social media pages and profile will definitely earn you extra cash. You can start by building awareness and introducing the brand to businesses and individuals who need your services. Many businesses need an online presence and grow, but don't know how to go about it. This is an opportunity for you.
6. Social media marketing
This is another great side business that might cost you a bit of capital to get started. First, you need to determine what you want to market using your social media platforms. If you are the type who likes networking business. It will be a great tool for you. Using your WhatsApp, Instagram, and Facebook stories to sell your product is what social media marketing simply means. You can also create short content or stories that will grab your readers and convince them to buy your product.
You can learn writing skills to improve your content creation skills. Moreover, besides the normal textual content, one can decide to use video content, for your information, video content works better than any other content and this is because people prefer to watch than read. Social networks have evolved. These days it's not just about gossiping, a lot of business can be done. Billions of dollars are flying around these platforms, make sure you are one of those earning them.
7. Sale of information products
Are you good at research and marketing, then you might as well consider selling information products? As with blogging, selling information products requires that you invest your time and develop a great marketing strategy to scale.
The information product simply involves finding or getting a topic that you are knowledgeable about and creating quality content to feed the people who need such information. A good way to monetize an information product is to simply convert it to an ebook or course. You can sell it on amazon or Udemy as a course. An information product is a great side business because you can make thousands of dollars by providing this service. To earn more, try to focus on the niche with a large audience eager for the solution that you can provide with your knowledge in the field.
8. Become a social media influencer
Social media made popularity easy to gain before social media required becoming a singer, actor, or athlete to earn that fame. But today, the story is different with a large number of followers, you can become very famous on social networks. Building brands around what you know can help you become a social media influencer.
An influencer is also a secondary activity. Not just a side push, but a great one and why that made my top ten best side pushes.
There are many ways you can monetize your social media as long as you are an influencer, for example influencing a tweeter. You can choose to monetize your account by running sponsored posts or selling products to your followers. Same as Instagram and other social media platforms. Influencers charge for sponsorship posts and that's how most make their money. Social media influencer is a great side business that you can start.
To get started, start by focusing on creating consistent articles on a particular topic.
9. Start the mini-importation
Mini Importation may be a side business for you. It is one of the best activities that you can start right away. Mini Import is the process of finding, buying, and shipping unique products from another country to your country for sale to your customers.
Similar to Dropshipping in that it is done online. However, you must make the delivery yourself through established online sales platforms. It is called mini importation because it is mainly about items that can be easily held in the hand. Not the bulky goods that require freight shipping. Mini importing is a very profitable side business and will not distract you from your main job in any way. All you have to do is automate it and you don't have to quit your job, earning both streams.
10. Creative designer.
Well, there is a lot to say here. Creative design is now all the rage. Creative design can be limited to graphics, but in this context, we don't want to limit it to just graphic design. Creative design, as the name suggests, refers to any design that involves creativity. We have the following in this context.
Interior / Exterior Design: There is a huge market for those with these skills. Every day we have people who want their home to have this decent and beautiful look, you can attract them by posting your artwork online. Instagram is a great platform for you if you know how to use it.
Graphic Design: Can you design flyers, logos, cards and other artwork, it can also be a great side activity for you. You can start by publishing your works online. You only need a laptop and some knowledge in this area to get started. Your customers can even be people from your company where you have your regular salaried job.
Artist: Are you good at drawing portraits, then you already have one of the best side jobs to start making money. Nowadays, people love to have their portrait hung in their house. Similar to others, you work on social media will definitely attract your customers.
Photography: It's a great and lucrative side business. You can sell your stock photos online is a platform for this. We also have other platforms that buy images or where you can upload your images and start making money.
Motion Graphics & Animation: This is another side business that is gradually taking hold of a huge market. A short video by 2023 will contribute 82.3% of our online content. If you have this skill, why not start marketing and gaining a customer for yourself now.
Conclusion
With a side business, you can earn extra money for yourself on a daily, weekly or monthly basis. Besides the extra money, a side activity can also be a source of inspiration for you to develop your skills and become a subject matter expert, as well as learn new skills. You can also build your brand or your portfolio with it, why work to achieve financial stability. Take the risk now and grow your wealth even as an employee. With Side hustle you can plan for your future, you can finally chase that passion and earn some extra cash. Now is the right time, nothing can stop you if you don't stop yourself.